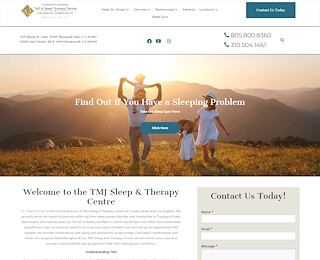 TMJ & Sleep Therapy Centre is a reputed treatment facility for OSA and temporomandibular disorders. We offer the best quality TMJ Therapy in Moorpark with innovative technology and a highly trained medical team.
What makes Dr. Shirazi the best TMJ doctor in California?
Dr. Shirazi opened his clinic in 2006 and has been helping patients in and around Moorpark for over 15 years. His expertise in treating sleep and breathing issues using non-invasive and innovative treatments and therapies makes him the most preferred OSA doctor in Moorpark.
Dr. David Shirazi is a state board licensed dentist and acupuncturist with a doctorate in dental surgery. Our surgeon's in-depth knowledge of oral appliances for temporomandibular disorders allows him to fix his patients with the best quality oral splints. Dr. Shirazi has a diploma in craniofacial pain and several certifications in orthodontics, TMJ disorders, headaches, neuralgias, and sleep-disordered breathing. He has helped thousands of patients with TMJ disorders overcome pain and attain better sleep quality with his integrated treatment approach and personalized care. His expertise in using an oral splint for temporomandibular joint disorders has won him numerous awards and accolades in his 21-year career.
What are the best treatment options for TMJ disorders?
In some patients, TMJ disorders resolve on their own without any treatment. However, if you experience the symptoms of TMJ for several months, your doctor may recommend one of the following treatment options:
Medications - Your doctor may prescribe pain relievers and anti-inflammatory medications to alleviate the pain and discomfort caused by TMJ. Your doctor may also recommend tricyclic antidepressants and muscle relaxants to help you manage sleeplessness and bruxism and overcome pain.
Therapies - As a leading clinic for TMJ appliances, we use a broad range of non-drug therapies to help our patients overcome pain and discomfort. There are numerous types of TMJ appliances or oral splints (occlusal appliances) that benefit people with jaw pain. These can consist of a soft or firm device that goes over your teeth and improve breathing when you sleep.
Physical therapy - Along with oral splints, we also teach jaw muscle strengthening exercises and stretches to help our patients manage facial pain. Moist heat and ice treatments may also help control TMJ pain to some extent.
We are one of the top sleep clinics to use non-invasive laser therapy to treat TMJ disorders. We also offer counseling and teach healthy chewing habits and jaw positions and activities to avoid for a pain-free life.
What is a TMJ appliance? 
A TMJ appliance helps reduce the TMD symptoms by alleviating some of the pressure on the jaw joints. It also helps realign the bite and prevents contact between the teeth. A TMJ appliance can help you overcome facial pain, jaw discomfort, sleep apnea, snoring, teeth grinding, and other temporomandibular joint disorders.
Do not let your TMJ disorders affect your productivity at work and in everyday life. Call us at 805-496-5700 or 310-401-0813 to receive the best quality TMJ therapy in Moorpark. TMJ & Sleep Therapy Centre creates personalized recovery plans for each patient suffering from temporomandibular joint disorders and addresses it using an evidence-based and non-invasive treatment approach.
TMJ Therapy Moorpark