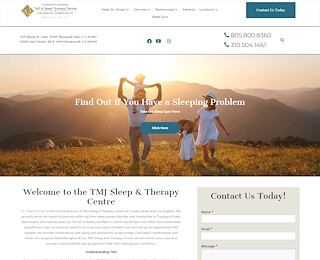 Contact TMJ and Sleep Therapy Centre for TMJ therapy in Brentwood. If you suspect you have TMJ or are looking for a sleep center than can provide an accurate diagnosis for TMJ, you've come to the right place. Contact our staff today to schedule an appointment for a thorough evaluation and treatment plan to deal with your TMJ symptoms once and for all. You most likely have many questions about TMJ and how you can get relief from this condition; you'll find more information on our website as you explore our Web resources.
3 Reasons Not to Ignore TMJ Symptoms
1. If you have pain or tenderness in your jaw, it may be a sign of something serious, like TMJ. An oral splint for temporomandibular joint disorders can make a huge difference in your pain levels and in your recovery, but the only way you'll know for certain that you have TMJ is by seeing a specialist who can eliminate all other possibilities and make a positive diagnosis. Find out more about appliances for temporomandibular disorders when you contact TMJ Sleep and Therapy Centre.
2. Aching pain in and around the ear may not respond to antibiotics because it might not be due to an infection. If you've been to an ear specialist who was unable to properly treat an ear problem, TMJ may be the issue. If you have questions for our staff, such as 'What is a TMJ appliance?' or 'How do TMJ appliances work?', we can schedule a consultation appointment for you and spend time addressing your questions and concerns. Reach out to us regarding TMJ therapy in Brentwood.
3. If you're experiencing difficulty chewing or pain while chewing, the natural response to the situation may be to eat less often; however, that can lead to malnutrition or loss of weight. Along with pain at mealtime, you may be having problems eating due to joint locking that makes it difficult to open or close your mouth. Inquire at TMJ Sleep & Therapy Center regarding types of TMJ appliances that can relief soreness, pain, tenderness, and joint locking.
TMJ Therapy in Brentwood
You can read more about the symptoms of TMJ on our website, where you'll find a wealth of free resources and information to help you make the right decision regarding treatment for your condition. Start by clicking the Services>TMJ Disorders link to find out about the causes of TMJ, new treatment options, and additional symptoms that may include numbness or tingling in the arms or hands.
If you need help for TMJ, contact us right now by calling 805-496-5700 or use our online contact form- we're here to help. More than 10 million people in the US alone suffer from TMJ problems; many never seek help and suffer needlessly. Get help for a TMJ problem and put an end to the constant pain, discomfort, and aggravation that comes with a TMJ disorder. You may need a custom-made TMJ appliance if nothing else has worked.
TMJ Therapy Brentwood