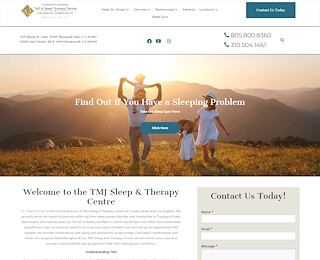 TMJ & Sleep Therapy Centre is a high-tech clinic for sleep apnea appliances in Conejo Valley with a renowned doctor, dedicated therapists, and experienced RNs. We use a broad range of non-invasive, advanced, and affordable treatments to help patients suffering from TMJ disorders heal and recover from OSA, jaw pain, jaw tenderness, teeth grinding, headaches, and earaches.
How can an occlusal splint help?
An occlusal appliance or splint is one of the most effective treatments for TMJ disorders. Oral appliances help alleviate jaw and facial pain, reduce temporomandibular joint noises and restricted jaw mobility, and address sleep apnea and snoring.
These appliances change the condylar position and reduce abnormal muscle activity and spasm. Their primary function is to alter an occlusion to minimize their interference with the seating of the condyles in centric relation. Oral appliances force the user to place their mandible in a new posture, which results in improved articular balance. It also prevents patients from clenching their teeth like before. Oral splints are highly effective in decreasing the frequency of the bruxing episodes, ensuring elevated flow of oxygen during sleep. This effect improves breathing and helps manage and control obstructive sleep apnea.
Pros and cons of sleep apnea appliances
Oral splints are one of the most effective and affordable sleep apnea treatment options. Here are some of the merits and demerits of using an oral appliance therapy for obstructive sleep apnea:
Pros
Non-invasive – Oral appliances are a non-drug and non-invasive treatment option for individuals with a sleep apnea diagnosis. Unlike surgery or medications, using an oral appliance does not come with side effects nor it involves long recovery periods.
Easy to use – These are easy to use, and you can buy a custom-fitting oral appliance for maximum comfort.
No side effects – Compared to surgery or medications, an oral appliace is a much safer treatment option with very rarely reported instances of side effects. Get your appliance from an experienced orthodontist or sleep doctor and use the oral splint according to your specialist's instructions to prevent any side effects or complications.
Cons
Oral issues in the long term - Using it for too long can lead to jaw shifting, teeth, and gum pain and alter the position of your jaw permanently. Some patients experience increased saliva production or problems with dry mouth.
Discomfort - It can be uncomfortable to wear for some patients in an initial couple of weeks. However, getting a customized oral splint should reduce or even eliminate the discomfort.
When should I seek help for TMJ disorder?
You should see a TMJ specialist if your jaw pain or tenderness persists for several weeks. If you face difficulties opening or closing your jaw or suffer from poor quality sleep, consulting a TMJ specialist can help you find the relief you need.
Your search for laser treatment for sleep apnea ends here. Discuss your medical needs with the best sleep doctor in Conejo Valley, Dr. David Shirazi. Dr. David Shirazi has won several awards and accolades for his use of laser in sleep disorders. You can call us for appointments at 805-496-5700 or 310-401-0813. We sell superior quality sleep apnea appliances in Conejo Valley at the lowest cost. TMJ & Sleep Therapy Centre is a preeminent sleep clinic that has helped patients overcome sleep-related issues since 2006. 
Sleep Apnea Appliances Conejo Valley