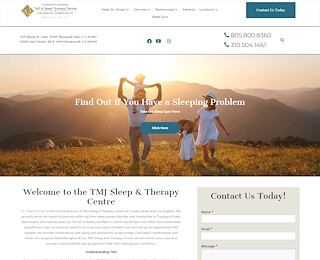 As you search for affordable orthodontics in Newbury Park, keep TMJ & Sleep Therapy Centre in mind for clear braces designed to fit your budget. You may have thought that by choosing clear orthodontics you would pay more for treatment compared with conventional metal braces; however, that's typically not the case. Feel free to reach out to our staff to learn how easy and affordable it is to own the smile of your dreams; reach us by phone at 805-496-5700.
5 Reasons to Choose Us For Orthodontics in Newbury park
1. At TMJ & Sleep Therapy Centre, we know that orthodontics are about more than just creating a beautiful smile. When you choose clear aligners to remedy a bite issue or straighten your teeth, our secondary aim in treatment is to provide face, jaw, and airway orthodontics that improves quality of life, as well.
Be selective when choosing an orthodontist, as not all 'specialists' offer patients what is known as functional orthodontics, which seeks to diagnose, prevent, and treat dental and facial irregularities.
2. Affordable aligners have effectively replaced metal braces for many patients, so there is less of a stigma attached to wearing braces today. If you've ever thought about having your teeth straightened but failed to pursue treatment due to concerns over your appearance, there's good news for you- Invisalign clear orthodontics is designed to fit your budget and keep you smiling without embarrassment.
3. As one of the only orthodontic centres in the community offering patients ALF, or Advanced Lightwire Functionals, we are able to provide patients with specialized treatment that expands the maxilla and allows more oxygen to enter the nasal cavities. ALF positions wires behind the teeth so that braces are less apparent; treatment closes spaces, spaces out crowded teeth, widens the arch, and expands the arch, in most cases, eliminating the need for extractions.
4. Newbury Park dental aligners used by our team are different from those offered at other clinics in that they're made from hypoallergenic materials that significantly reduce the risk of having a reaction to the plastics or chemicals used in the process of manufacture. Our aligners do more than just correct the teeth and bite cosmetically- they also position teeth and bones to guide the tongue into a normal swallowing pattern to eliminate grinding and clenching teeth at night.
5. We treat Class I, Class II, and Class III Malocclusion and Occlusion, defined in the following way:
Class I Malocclusion, when the bite is aligned but teeth are crowded, crooked, or turned to the side
Class II Malocclusion, when the upper teeth protrude past the lower teeth
Class III Malocclusion, when the lower teeth protrude past the upper teeth
Occlusion, when there is a malalignment and spacing of the upper and lower teeth during bite-down
To schedule a new patient appointment at TMJ & Sleep Therapy Center for orthodontics in Newbury Park, reach out to our reception desk by calling 805-496-5700. Improving the appearance of your smile can help you breathe a lot easier during sleep, as well.
Orthodontics Newbury Park