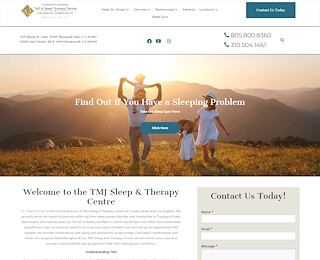 Sleep apnea is a disorder that affects the way you sleep. If sleep apnea is left untreated, it can result in numerous health complications. Here at TMJ & Sleep Therapy Centre, we use oral appliances to help treat obstructive sleep apnea. Here are some of the frequently asked questions we receive about sleep apnea oral appliances.
What is an oral appliance?
Oral Appliances are intra-oral, custom-made, and FDA-approved appliances used for treating obstructive sleep apnea (OSA) by placing your lower jaw in the best position for maximum airway support to the lungs during sleep.
Who needs an oral appliance?
Only a trained dentist can decide if you are the best candidate for oral appliances. If you experience symptoms of sleep apnea, an oral appliance may be suggested. 
How does oral appliances help treat sleep apnea?
This appliance is fitted over the upper and lower teeth. It's worn in the mouth during sleep to prevent the throat's soft tissues from collapsing and closing off the airway to allow improved breathing.
How long can i use oral appliance?
The severity of your sleep apnea, genetic, and lifestyle will determine how long you use your oral appliance. At TMJ & Sleep Therapy Centre, our doctor can talk more about this once he conducts an evaluation.
What does oral appliance feel like in your mouth?
Oral appliances consist of two units fitted over your lower and upper teeth; some may be connected while others aren't. Oral appliances may feel strange at first because it's something new and different, but most patients adapt quickly to the device.
Does it hurt to use an oral appliance?
During the initial wear period, you might feel some level of discomfort, but it usually resolves quickly as the mouth adapts.
How do I keep my oral appliance clean?
Each morning, brush your oral appliance with a soft toothbrush without toothpaste and place it on a sonic cleaner table after removing your device. When finished, drain the used cleanser, fill the container again with clean water, and put the oral appliance.
How long do I have to wait before getting an oral appliance?
 We'll schedule an appointment with you to take bite registration after the initial consultation. You will be fitted with the appliance and start the process of advancing to the correct jaw position. After using the oral appliance for some weeks, you will return for the final test while wearing the device to check if it's working.
Does insurance cover oral appliances?
You need to check with your insurers to see what they cover before ordering any devices. Here at TMJ & Sleep Therapy Centre, we work with many insurance providers in Thousand Oaks, Brentwood, CA, and the surrounding area.
Contact Us For Oral Appliances In Pacific Palisades
If you have more questions about Oral Appliances for Sleep Apnea Pacific Palisades, please contact TMJ & Sleep Therapy Centre at 805-496-5700 / 310-401-0813 to get started on the road to a better night's sleep and schedule a complimentary consultation with Dr. Shirazi.
Oral Appliances for Sleep Apnea Pacific Palisades