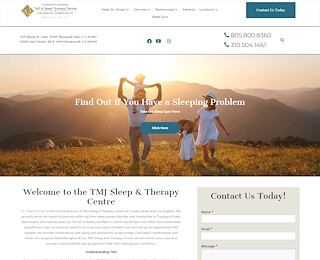 TMJ & Sleep Therapy Centre is a highly acclaimed wholistic clinic for jaw pain treatment In Agoura. Dr. Shirazi is an experienced and skilled expert at treating TMJ disorders using non-invasive and highly advanced therapies, oral appliances, and non-invasive treatments.
What makes Dr. Shirazi the best TMJ specialist in Agoura?
Dr. David Shirazi is a leading sleep specialist in Thousand Oaks with over two decades of experience, specializing in TMD treatment and treating craniofacial pain and sleep breathing disorders. 
Dr. Shirazi is a state board licensed dentist in California with hundreds of positive reviews. Our doctor creates customized recovery plans for each patient and uses an integrated treatment approach to help patients lead a pain-free life. Our TMJ specialist uses the most advanced therapies and technology in sleep medicine to help our patients attain improved physical wellness. Dr. David Shirazi is one of the few TMJ and sleep doctors in California to use a non-invasive treatment approach to OSA.
What is TMJ or Jaw pain?
TMJ disorders refer to pain in the jaw joint and the muscles surrounding it. The temporomandibular joint is the sliding hinge connecting the jawbone and the skull. While the actual cause of TMJ disorder is unknown, pain can occur due to a combination of factors, like genetics, arthritis, jaw injury, etc.
Individuals with the habit of teeth grinding or nail-biting also develop TMJ disorders. The good news is that there are several treatments and therapies to overcome the pain and discomfort associated with sleep apnea, snoring, and TMJ disorders. We are a leading TMJ treatment facility, and we use a broad range of non-invasive therapies to treat temporomandibular joint pain.
Treatment for facial pain
You can overcome the symptoms of TMJ disorders with treatment. There are several invasive and non-invasive treatment options for sleep apnea.
Medications like pain relievers and anti-inflammatories, tricyclic antidepressants, or muscle relaxants can help alleviate jaw pain, but they also lead to habit-forming and a variety of side effects. Our pain management doctor uses a broad range of non-drug therapies like occlusal appliances, physical therapy, nutritional guidance, and counseling to help clients overcome the pain associated with TMJ disorders.
Does occlusal appliance therapy help with jaw pain?
An occlusal appliance is a custom-fabricated acrylic device like a bite guard or bites splint, that goes over the occlusal and incisal surfaces of maxillary or mandibular teeth. These appliances alleviate the pain and discomfort experienced by patients with TMJ disorders and promote an orthopedically stable TMJ position. They also reorganize the neuromuscular reflex activity and prevent tooth wear.
Occlusal appliance therapy is a non-invasive treatment approach that can help you attain improved sleep quality without undergoing surgery or expensive treatments. Dr. Shirazi is one of the leading doctors for facial pain and can help you manage jaw pain and overcome snoring with his highly effective integrated treatment approach.
Let us help you get better sleep. Reach us at 805-496-5700 or 310-401-0813 to discuss your health issue with Dr. Shirazi. TMJ & Sleep Therapy Centre offers the best jaw pain treatment in Agoura and has helped hundreds of people lead healthy lives and enjoy better sleep.
Jaw Pain Treatment In Agoura