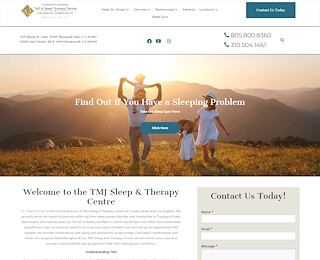 Meet with our team from TMJ & Sleep Therapy Centre when looking into dental aligners in Thousand Oaks. If you're dealing with sleep apnea or have bit issues that are causing health problems, straightening your teeth and realigning your bite could make a big difference in how you feel. Your dentist has only one focus of attention when treating mal-alignment- a more beautiful smile. Our staff is able to offer you insight into how you can improve your quality of life through the use of clear aligners.
3 Reasons to Consider Affordable Aligners
1. Orthodontics can give you the smile of your dreams,and while that, alone, is an excellent reason to consider dental aligners in Thousand Oaks, Invisalign and other clear aligners can do so much more than just help you make a great first impression on those around you.
Patients with bite problems often suffer from painful headaches, migraines, and other issues when they chew or engage in conversation. The good news is, through affordable orthodontic treatment, you can find relief from TMJ.
2. A significant percentage of patients are allergic to common plastics found in clear dental aligners, such as Invisalign. If you've considered clear aligners but were prevented from trying treatment due to a plastic allergy, we have a solution available at TMJ & Sleep Therapy Centre. The hypoallergenic materials used in our clear aligners makes them safer and less likely to cause a biological reaction when saliva or liquids come in contact with them.
Schedule a consultation with our team if you have allergy concerns and want to pursue dental aligners in Thousand Oaks. Our hypoallergenic aligners have the same, convenient features as other clear aligners:
Custom fitted for more comfort
Clear and discreet
Removable when brushing, flossing, or eating
3. Thousand Oaks dental aligners are affordable; in fact, they're comparable in cost to conventional orthodontic braces. If you're experiencing jaw problems, such as clenching or grinding your teeth at night, you may be concerned that the costs of finding a solution will be out of your price range. Rest easy knowing that clear aligners are designed to fit your budget.
Visit TMJ & Sleep Therapy Centre for a thorough evaluation to discover the cause of your jaw issues and associated pain or discomfort. Our professionals will look for the best solution, which may involve wearing a series of dental aligners that reposition your teeth and jaw to alleviate problems with your bite.
Customized Treatment for TMJ
When you're ready to get started, contact us to schedule an appointment or simply walk-in and let us know you'd like more information about TMJ treatment and dental aligners. After your consultation visit, our staff will recommend the best treatment option for your circumstances.
Reach us with any questions at 805-496-5700 or review our website's resources to learn about payment options available to our patients. If you can't afford to pay for dental aligners up-front, we can discuss discounts and payment methods that will better meet your needs.
Dental Aligners Thousand Oaks